The Giant Stones Around Ashizuri Cape
(with a Map of Japanese Jomon period sites & Ashizuri Cape)
Excuse me. Please keep waiting for a time, as these reports have many pictures.
1996.3.31 (Reported by Takehiko Furuta)
For PDF (you are readable this document in Portable Doument Format.)

---
Japanese Jomon period Sites & Asizuri Cape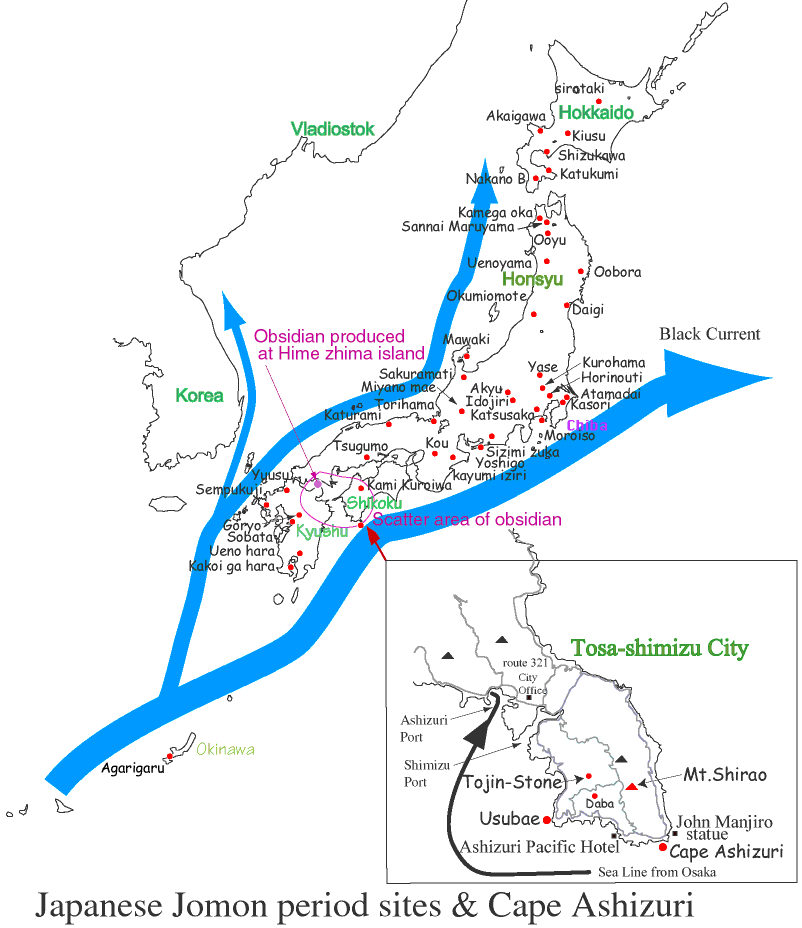 (1) Japanese Jomon period sites
This Map is based on "Paleolithic and Jomon period sites", and put on sites until just recently .
(THE CAMBRIDGE HISTORY OF JAPAN VOLUME 1 ANCIENT JAPAN THE EARLIST SOCIETIES IN JAPAN THE JOMON PERIOD
p62 Map1.1 Paleolithic and Jomon period sites. )

(2) Cape Ashizuri
Ashizuri peninsula is located at the south end of Shikoku island. The peninsula was made a long time ago, it surrounds the 433m high Hakuozan mountain made of granite which has moved up and down many times. Kuroshio, the rough wave can be seen constantly hitting the cliff. The Pacific ocean is very beautiful. When looking down from the 88m high cliffs it feels like the water is pulling you closer.
(Thanks. This information is offered by "HATA SIGHING MAP".
It is copyrighted by Yuko.)
More information is available at Sunfish.

---
For WWW information:
Japanese Jomon period sites

Please click on "REGION". Jomon Site can also accessed from "Historical Resource Guide for East Asia"

REGION
WWW name Site mame
HOKKAIDO
non
TOHOKU
Sannai Maruyama Jomon Era File Index
Sannai Maruyama
KANTO
non

(include HOKURIKU,TOKAI)

Famous Sites, Fauna and Flora
Mawaki Archaeological Site and Chikamori Hamlet Site
KINKI
non
CYUGOKU (include SAN'IN)
non
SHIKOKU
- Sunfish Island -
Cape Ashizuri
KYUSHU
The Archaeological Museum of Ibusuki city
as a guide

OKINAWA

non
---
We want several opinions about The Giant Stones Around Ashizuri Cape, please send E-mail to Yukio Yokota. sinkodai@furutasigaku.jp

---
Back to Home Page
for THE SELF-EVIDENT TRUTH OF THE JOMON STONES
---
Created by" Yukio Yokota"